We will:
Greet you and let you get comfortable in one of our private consultation rooms.
Listen closely to all of your needs and expectations.
Assess the condition of your scalp and hair.
Offer you diverse options and choose which one suits your individual needs.
Answer each and every question you might have.
Let you sample some of our products.
Give you accurate costs as well as *Plan options (if desired).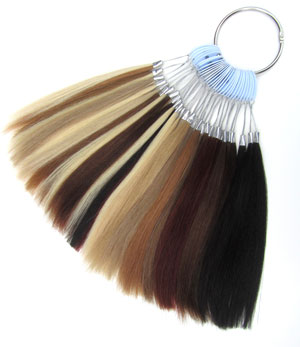 Whether you choose a Partial Hair Prosthesis, Hair Extensions or a Full Wig, we offer the most recent and gentle attachment methods that meet with industry standards and advances in order to allow you to regain confidence in your appearance.
Models:

Partial Hair Prostheses are small, light and very discreet. Best suited for men and women that have partial or isolated hair loss. Partials can also be used to simply thicken or accessorize your existing hair.
Popular models: -volumizers –integrations -¾ units –skins (for men).

Wigs are full caps and best suited for women (and some men) who have abundant or generalized hair loss. Wigs can also be used to simply accessorize your existing hair.

Hair Extensions are popular for women who want to lengthen and/or thicken their hair.

Fabrication:

A custom made hair addition is a popular choice and answers to a clients' specific needs.
Here we make a template (mold) of the area that needs hair to obtain the perfect diameter and fit. Then we order detailed specifications such as -Hair Color (highlight) –Density -Direction (part) –Length and Texture (European-Indian-Asian). For men, we can even create a customized salt and pepper look. The world is your oyster!

Ready-to-wear hair additions are available for less specific requirements. Here we choose a Partial, Wig or Extensions from a variety of ready-available hair-prostheses and choose one that resembles your existing (or pre-existing) hair. Your new hair will be blended to yours; cut and styled to create the look you want. Many lengths, colours, textures, densities (and sizes) are available.

Hair Type:

Human Hair provided to make most hair prostheses usually originates from Europe, India and Asia. Natural hair is maintained in a very similar fashion to your own. Heat sources such as hair dryers and curling irons can be used. Human hair prostheses are usually more costly but more durable, favored in general by men; and also by women who prefer a longer hair style (shoulder length or more) and want to have a more natural flow.

Synthetic hair is a man-made fiber that imitates human hair but sources of heat such as hair dryers and irons may not be used. Prostheses made of synthetic hair are usually less costly but less durable, often purchased by those who prefer a shorter look and want their hair to preserve its original style and color.

(Note: some alterations can be done in regards to color and texture by using specialized methods).
Periodical visits are usually, but not always, required for most hair replacement methods. Your technician will guide and advise you of any steps that you may need to take in order to maintain your new look.
Services and adjustments that you may need such as Re-affixing, Cutting, Styling, Coloring, Perming as well as Rejuvenating Alterations are all available on the premises.
There are many types of attachment. Here is an overview of a few of them. We remind you that ultimately, we will give you all the detailed information for your personal needs during your first consultation.
Note that you can refer to our FAQ sections for both men and women to answer more of your questions.
Here are some popular choices; these are divided into two categories: Semi-permanent and Temporary.
Micro-links:  These are miniature clasps, firmly fastened to your existing hair, onto which we attach the prosthesis or extensions.  This Semi-permanent method stays firmly in place 24/7 and requires periodical adjustments that vary from one person to the other. Often used for partial units or hair extensions.
Bonding: This is a form of silicone based medical-grade glue made for the skin. This Semi-permanent method stays firmly in place 24/7 and requires periodical adjustments. Often used for partial units or hair extensions.
Adhesives: This is two sided medical grade clear tape that affixes to the inside of the partial or wig.  This tape is specially made to adhere to skin. You can change the tape yourself each time you wear the prosthesis. This is a Temporary method often used by clients with generalized alopecia and can be used on wigs and partials.
Comb clips: These are small clips that are permanently fastened to the inside of the partial, wig or extensions. These clips press open-and-shut and grip onto your natural hair. This is a Temporary method and can be used with partials, wigs and hair extensions.
The price range is quite wide and depends on many variables; therefore it will be our pleasure to give you an accurate quote upon your first visit.
We will provide you with an official receipt for all of your purchases for Insurance or Income Tax purposes.
Prostheses

Pre-made

Custom

Shorter or thinner

Longer or Thicker

Shorter or thinner

Longer or Thicker

Partials

400$ +

600$ +

900$ +

1000$ +

Wigs

300$ +

500$ +

1200$ +

1400$ +

Hair Extensions

200$ +

400$ +

800$ +

800$ +
Take a look at our Program*Plans for men and *Plans for women.
The prices mentioned above are basic and will vary according to many specifications such as:
Hair Length: 6" to 22"+
Density:      Extra fine to XX-thick
Hair Quality: European-Indian-Asian
Cap Size:     Mini- Partial- 3/4 cap- Full cap
Fabrication: Custom or Pre-made
Servicing

Fusion Affixing

Cut Wash/set

Color
Highlights

Partials

30$ +

25$ +

25$ +

Wigs

30$ +

35$ +

45$ +

Hair Extensions

85$ +

40$ +

45$ +
Take a look at our Program *Plans for men and *Plans for women.
The prices mentioned above are basic and will vary according to many specifications such as:
Hair Length
Density
Cap Size
Method of attachment