Let's talk about hair addition
Chances are that if you're reading this you have probably exhausted most other hair replacement options and realize that lotions and potions just aren't for you. The side effects of some hair-growth-inducing medications often outweigh any advantages you may obtain. Surgical hair restoration is, in essence, a re-distribution of the hair that you have left, and most people with thinning hair do not have enough hair left to re-distribute.
The majority of hair loss is due to hormonal changes, stress, medical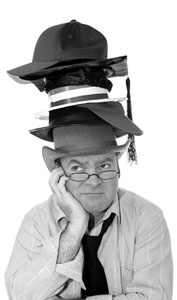 treatments, genetics or chemical over-processing. Depending on the type of hair loss you are experiencing (receding, general thinning, alopecia), the methods mentioned above may not be the best options for you.
Let's face it, we all know that wigs, hairpieces and hair extensions have had their fair share of a "bad rep" and some of those so called "toupees' haven't done us any favours.
The truth of the matter is that today, technologies have Evolved in the industry. Hair prostheses today are made of ultra fine translucent monofilament and singly injected hair which provides a gradual and unnoticeable transition: from a balding or receding hairline to a completely natural looking head of hair.
Just remember the next time you might suspect that the person sitting next to you is wearing a hair prosthesis, that maybe, just maybe, the person sitting right across from you is wearing one too, but you just can't tell!
Please refer to our FAQ sections for men and women to answer more of your questions.
Here are a few frequently used terms when referring to hair and attachments.
Definitions:
Hairpiece:  A wig, or piece of hair, worn to conceal hair loss, or to add bulk or length to somebody's natural hair.

Extensions:  Act or process of increasing the size, scope, range (length) or application of something.

Partial:  Affecting a part or parts but not the whole. A partial restoration of something.

Weave: Verb to make something by interlacing strands or strips of any material.
(This term is often used incorrectly in the industry while referring to a "weave" as a hairpiece or hair extension.
As you can see by its definition, it is actually a method that is often used when attaching a wig to kinky textured hair.)

Thinning: To reduce something in thickness or number, or become reduced in thickness or number.

Receding: To gradually go bald from the front of the head backward.

Baldness:  Having little or no hair on the head.

Alopecia: Loss or the absence of hair, especially from the human head.

Alopecia aerate: Medical condition in which hair is lost from some or all areas of the body. Typical first symptoms of alopecia areata are small bald patches (pattern baldness). The underlying skin is unscarred and looks superficially normal. These patches can take many shapes, but are most usually round or oval. Alopecia areata most often affects the scalp and beard, but may occur on any hair-bearing part of the body. Different skin areas can exhibit hair loss and re-growth at the same time. The disease may also go into remission for a time, or permanently. Current evidence suggests that alopecia areata is caused by an abnormality in the immune system. Sometimes, alopecia areata occurs within family members, suggesting a genetic component.

Here are a few other terms: They may not necessarily appear in any dictionary but are often used in the industry. Some are still used and others outdated. Many are synonyms and if you wish, these can be explained during your consultation:

Micro-links
Tubes (tubular)
Loops
Bonding
Bees' wax
Glue
Wefts
Adhesive
Weave
Fusion
Braids
Keratin
Hand tied
Machine tied
Single strand
Wiglet
Volumizer
¾ caps
Ponytail
Toupee
Cuticle
Virgin
Remy
Etc...