FAQ about Hair Extensions

The following are Frequently Asked Questions related to Hair Extensions. As each person's needs are unique, all of your questions will be answered and discussed in detail during your first consultation. At that time, we will determine which technique best suits your personal needs

1-What are the basic functions of hair extensions?
To thicken your existing hair
To lengthen your existing hair
To correct a bad haircut
To correct over-processed hair
2- How natural do hair extensions look?
Recent techniques allow a completely natural look. Remember that we only detect extensions that are not well suited to the individual.

3- What types of hair exist?
Most clients choose hair extensions made of human hair. All lengths, colours, textures, densities and hair quality can be ordered; the world is your oyster!  Most human hair provided to make hair extensions originates from Europe, India or Asia. Natural hair is maintained in a very similar fashion to your own. Heat sources such as hair dryers, curling irons can be used. Synthetic hair is not usually an option. This fiber will not tolerate heat (hair dryers or curling irons) and chemical processing (perms or dyes) will be ineffective. 
4-How are they attached?
There are many methods of attachment; these are divided into two categories: Semi-permanent and Temporary.
Here are some of the most popular:
Micro-links:  These are miniature clasps that are firmly fastened to your existing hair, onto which we attach the extensions by row or strand. This Semi-permanent method stays firmly in place 24/7 and requires periodical adjustments.
Comb clips: These are small clips that are permanently fastened to the inside of the hair extensions.  These clips press open-and-shut and grip onto your natural hair. This is a Temporary method.
BAND-BOND©:
NEW! CUSTOM MADE HAIR EXTENSIONS made of quality hair. The extensions stay in place 24/7 and require periodical adjustments.
We guarantee that the extensions will not need to be serviced before 4 weeks and can last up to 6.
The attachment method will tolerate any heat (hot water/dryers/irons) and daily shampoos if desired.
The hair itself is re-usable and usually needs to be replaced every *6-18 months.
(*This frequency usually applies to clients that are less careful with their hair)
Custom made hair extensions answer to clients' specific needs.
We can (if needed) make a template (a sort of imprint) of the area that needs to be thickened and/or lengthened to obtain the perfect fit.
We order detailed specifications such as -Hair Color (any highlight effect) –Density –Length and Texture (European-Indian-Asian). The world is your oyster!
We dare you to try them; even YOU who may have endured bad experiences! Nothing like it on the market; Undetectable; no bumps or lumps at the scalp, comfortable, exact match to your own hair.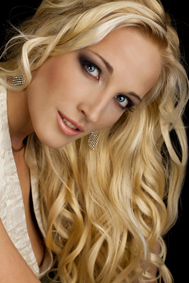 5-Are these attachments resistant enough for an active lifestyle?  For example: During sports or while swimming?
Yes, semi-permanent methods will respond to the demands of the most active lifestyles. The attachments will stay in place.

6-Are there any risks in damaging the scalp or preventing re-growth of the existing hair?
No.  Hair extensions are made with thin, weightless materials that let your scalp breathe normally.  If you follow all of the advice from your hair technician, your existing hair will stay healthy and strong. Our goal is to always salvage your existing hair; it's actually to our advantage; we need it to eventually re-affix new extensions!  

7-How often do we need to have the extensions adjusted? What is the cost of these services?
Semi-permanent methods require servicing every 4 to 6 weeks. Each visit lasts between 1-2 hours. Generally, the cost of this service starts at 85$ and varies according to the quantity of hair and attachment system used. Take a look at our Prices & Receipts section for more information
8-How much do the hair extensions themselves cost?   How often should they be replaced?
The price will vary according to the client's specific needs. For example: Type, Length, Density, and Quality.
For those who chose permanent attachment methods, the hair extension's lifespan will vary between 6 - 12 months. With some hair systems the prices start as low as 200$ to thicken. To lengthen, prices can start at 400$.
Take a look at our Prices & Receipts section for more information.
Note: Program plans are available for hair extensions. Please inquire during your consultation.